Ramadan Cue
General info
Level Unlocked
1
Price
25 pool cash
Recharge Price
100 pool coins
Chat message
"Ramadan Mubarak!"
Classification

Below 20

Cue stats
Force
Aim

3

4

Spin
Time

3

3

Cue succession

◀


Previous
Christmas Cue

▶


Next
Crimson Cue
Hover over text for definitions
•
[view]
•
[talk]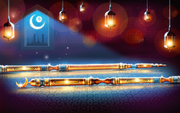 The Ramadan Cue (also known as the "Light Cue" across mobile devices) is a cue in 8 Ball Pool which is obtainable at level 1, costs 25 pool cash to purchase and 100 pool coins to recharge.


Description
The Ramadan cue is a cue bathed in gold, azure and bronze. Atop the cue is a golden-tinted moon. The cue specializes in aim and comes with an additional chatline reading "Ramadan Mubarak!".
This article is part of a series
about


Cues

---

Wikipool help articles

---

This article is part of Wikipool's cue project, where we aim to provide you with the best source of information about the topic on the internet.
Ad blocker interference detected!
Wikia is a free-to-use site that makes money from advertising. We have a modified experience for viewers using ad blockers

Wikia is not accessible if you've made further modifications. Remove the custom ad blocker rule(s) and the page will load as expected.